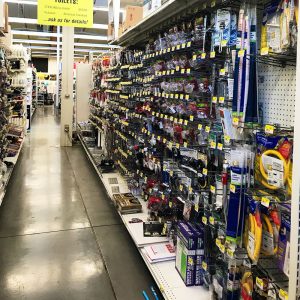 From pipe and fittings to plumbing tools and repair parts, Pearl Hardware has the right tools for even the messiest of jobs. So, if your toilet is running constantly or a clogged drain is driving you mad, a trip to the hardware store is in order!
Pearl Hardware stocks everything plumbing-related from A to Z. We've got it all, from Hair Away and drain cleaners to dryer tubing and gaskets. And, of course, we always have extra plungers on hand! But our inventory doesn't stop at plumbing supplies. We also have a large selection of shower curtains and bath accessories like shower heads, caddies, toilet seats, bathroom rugs and bath safety items.
Plumbing supplies are in high demand in Portland and we pride ourselves on our wide variety of must-haves right in the heart of the city. If your toilet is on the fritz or your water heater is having a meltdown, we've got your back. Visit us to tap into the knowledge and advice from someone versed in common plumbing repairs. So whether you're fixing a leaky faucet or simply changing an air filter, we're here to help!
See below for a list of just some of the brands we carry: