Now Hiring! Great Benefits!
Click
HERE
to download a printable application and bring it to the store or come by and fill one out!
Come see us at our Pearl Location
Conveniently located on Glisan, just off of the 405
Always free onsite parking

Monday to Friday from 7AM to 7PM
Saturday 8AM to 7PM
Sunday 9AM to 6PM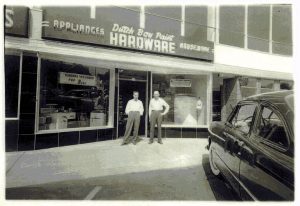 Six decades ago Ken McQuestion, wearing his customary bow tie, set up shop on Northwest 23rd Place. His original Uptown Hardware store was small — narrow and long, in step with the norm of the times — and thrived for more than five decades, finally shuttering for good in 2006. Meanwhile, Uptown Hardware Inc. continues to flourish, bucking a national trend.
"There have been a lot of changes," said Duane Cook, McQuestion's son-in-law who, along with wife Sherry, has helped run the company since 1967, assuming full ownership in 1982. "It's just amazing."
The original Uptown Hardware opened its doors in 1950, occupying a 4,000-square-foot space at 27 N.W. 23rd Place. The company subsequently opened two more stores, acquiring Woodstock ACE Hardware, in 1998; and opening Pearl ACE Hardware, in 2003. Read More…
This is one of the best hardware stores in Portland, hands down. The staff is friendly and helpful, and they have a little bit of everything. If you took all of the best things in a kitchen store and a big box hardware store and put them into one store, that store would be Pearl Ace Hardware.

David Nethers

I was absolutely AMAZED at the fantastic customer service I recently received at Pearl ACE Hardware! Aside from it being a beautiful and organized store - the awesome staff were so helpful and friendly, I will now go there for everything I could possibly need! Thank you, David and crew!!

Natalie Holzer

The customer service is AMAZING! From the moment I entered the store, I was treated like more than a customer, I was treated like a friend.

Tonya Gallion

One of my favorites. Feels like small home town hardware store in the middle of the Pearl

Jessica Hubbs

They have everything you need and they are very helpful when you require a thingamajig or a whatchamacallit.

Susan Ackley

Great store! Friendly, helpful staff! Highly recommend it!

Charles K. Smith

I went to Pearl Ace Hardware to get some paint chips for paint samples for a historic building in downtown Portland. Jonathan in the paint department was extremely knowledgeable, helpful and patient. He guided me through the process and provided expert advice. A great experience and I will return with more business.

Diane Fulton